The Windows Registry is a crucial database that houses information, settings, and options for software and hardware on your Microsoft Windows computer. It plays a vital role in managing your system's resources, ensuring stability, reliability, and peak performance. However, over time, the registry can accumulate errors, leading to various issues such as slow performance, crashes, and system errors.
To help you avoid the hassle of manual registry cleanup, we've compiled a list of the best registry cleaners for Windows, both free and paid, that will efficiently optimize your system.
Best Registry Cleaners
We tested all the most popular registry cleaners to discover the best registry cleaner for Windows.
1. Cleaner One Pro
Cleaner One Pro is a free PC cleaner and optimizer that helps to free up storage, clean up the registry, and manage installed apps to speed up boot time and day-to-day performance. The app features a beautiful UI with nifty visual effects, which work perfectly on Windows 11.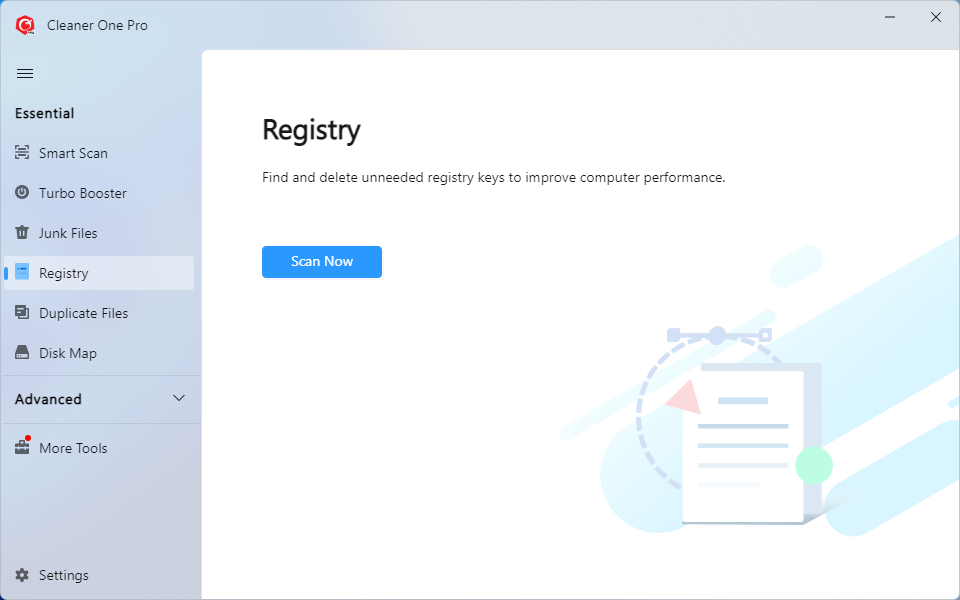 Cleaner One Pro can scan registry entries including help files, uninstallers, shared DLLs, and more, helping to clean, repair, and optimize the registry to eliminate errors and crashes and restore stability and performance. Cleaner One Pro can also back up registry entries so, in the event of a system crash, users can recover the previous registry to avoid serious issues.
Cleaner One Pro for Windows provides many useful features including Smart Scan, Junk File Cleaner, Big File Scanner, Disk Map, Turbo Booster, App Manager, and Vulnerability Scan. These features are ideal for all-around system care.
The free version of Cleaner One Pro can scan your registry, however, if you need to clean up the clutter, you will need to upgrade to the full version.
2. CCleaner Professional
CCleaner Professional cleans junk files, repairs the registry, and allows you to fix other system-related problems to improve PC performance. The app also features a registry cleaning tool — allowing you to clean and repair entries. It helps to remove unused, old, and invalid registry entries including file extensions, ActiveX controls, ClassID, ProgID, uninstallers, help files, invalid shortcuts, and more. This advanced registry cleaner for Windows also offers a full backup option, so if you run into an issue and need to revert back to an earlier version of the registry, you can quickly restore it.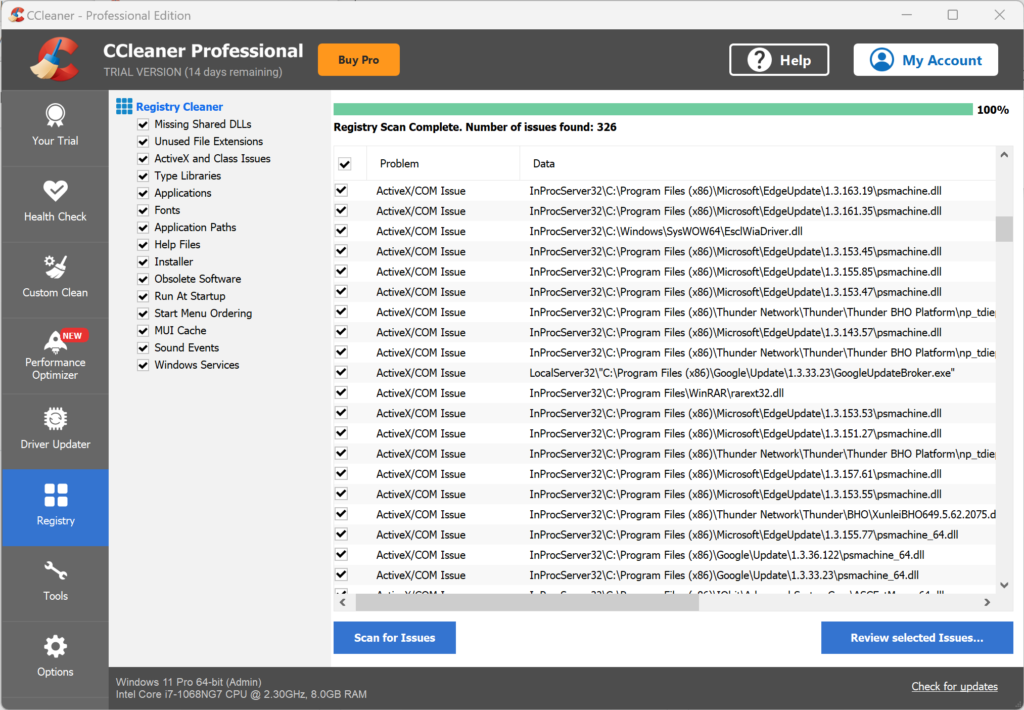 CCleaner Professional is compatible with Windows 11, 10, and 8.
There is also a free version called CCleaner, but some of its modules like Defraggler, File Recovery, and Speccy are only available in the paid version, CCleaner Professional.
3. Wise Registry Cleaner
Wise Registry Cleaner offers three types of scans: Quick Scan, Deep Scan, and Custom Area Scan.
Quick Scan scans only security entries, while Deep Scan scans lots of system files, including ActiveX/COM components, shared DLLs, application paths, and more. In Custom Area Scan, you can select the specific items to be scanned from a given list of options.


Wise Registry Cleaner has a system optimization module to help improve network performance, speed up Windows, and stabilize your system. It also comes with Registry Defrag for defragmentation purposes, which can make your PC run faster and be more stable.
Wise Registry Cleaner is currently available for 32-bit and 64-bit versions of Windows 11, 10, 8, 7, Vista, and XP. Although this registry cleaner is free, there is also a paid version.
4. Auslogics Registry Cleaner
Auslogics Registry Cleaner comes with a straightforward and interactive user interface that lets you scan your system for registry errors. This registry cleaning application allows you to create backup and restore points. It also enables you to find all registry entries and parameters using the keywords you specify. You can use this feature to filter your search between section names, parameter names, and parameter values.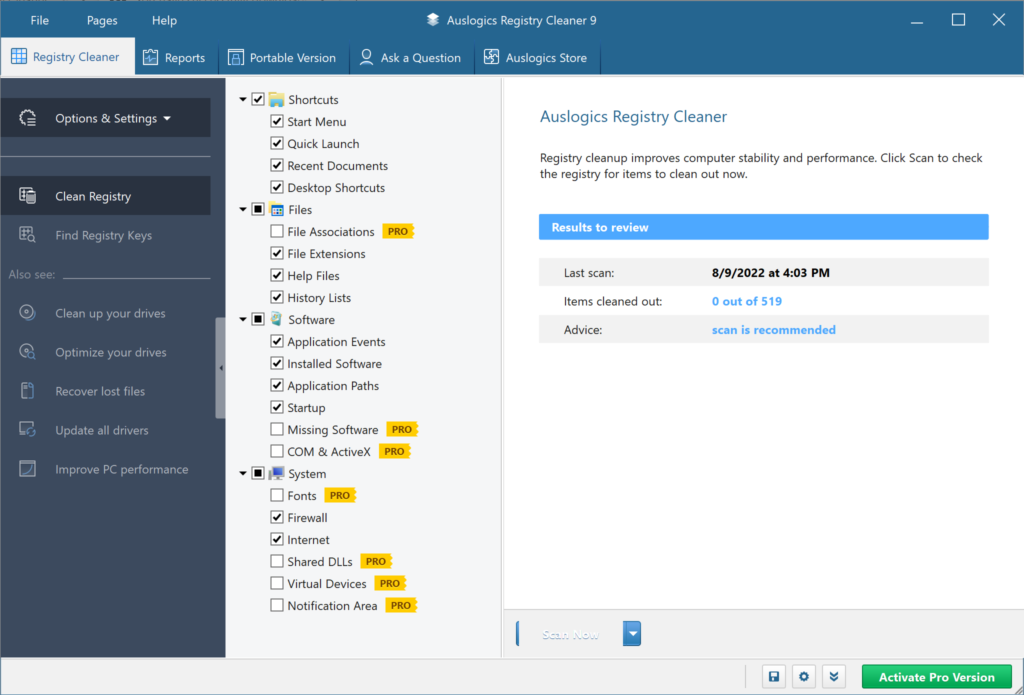 Unlike other registry cleaners, Auslogics Registry Cleaner offers a rescue center where you can select the Windows registry you want to back up, and restore it later as needed.
The app also provides users with an ignore list where you can add areas that should not be scanned. This is done to save time and storage space.
Hands down, Auslogics Registry Cleaner is one of the best registry cleaning tools for removing invalid registry entries from Windows and improving PC performance.
5.Advanced PC Cleanup
Advanced PC Cleanup is one of the best registry cleaners for Windows. This PC cleaning tool comes with a special module for scanning and cleaning invalid registry entries. It will not only help your computer to run properly but also improve its performance.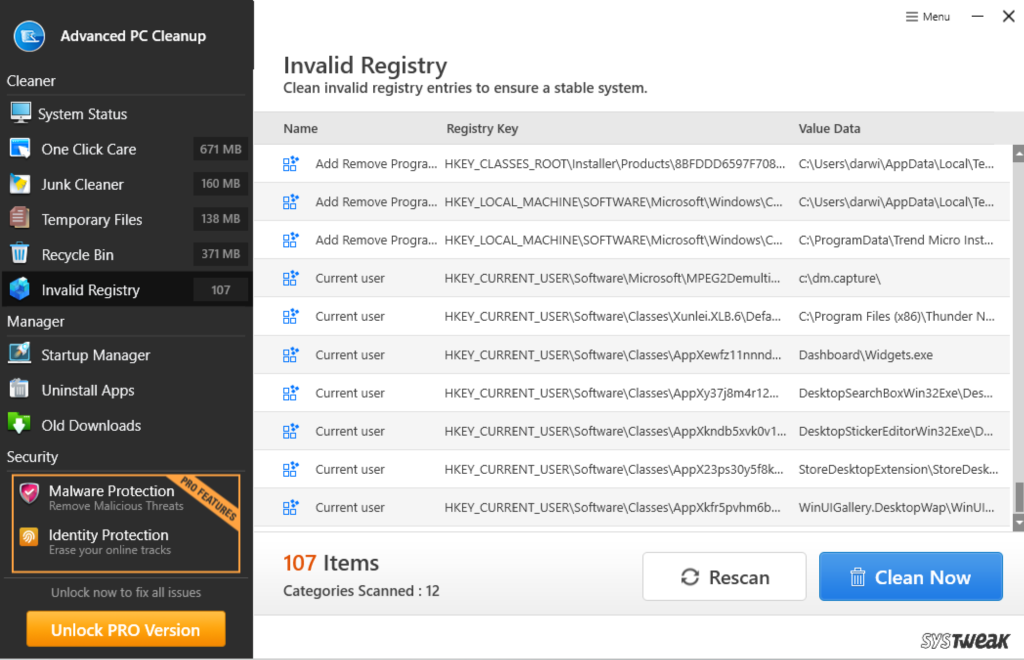 If you want to fix registry issues quickly, choose Advanced PC Cleanup. It will clean all the unwanted and unused registry entries on your computer in one click. The user-friendly interface makes it easy for users to navigate through applications and clean up invalid registry entries.
Advanced PC Cleanup also allows you to manage startup programs, uninstall them, and protect your device from malware.
6. Restoro
Restoro offers many advanced tools, including malware detection and removal, deleting and repairing corrupt system files, cleaning corrupt DLLs, and much more. This utility will help you get the most out of your PC.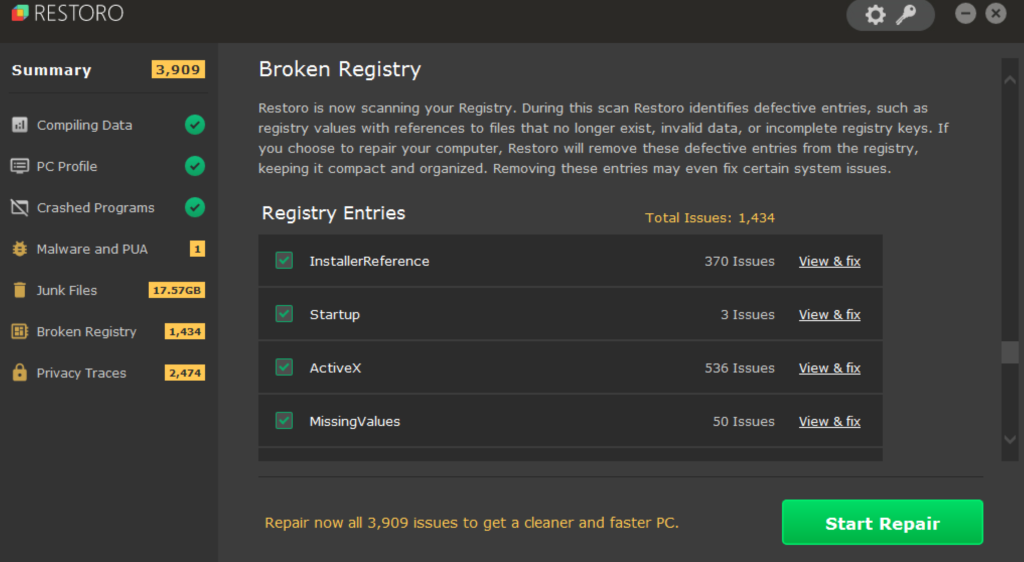 Restoro also offers virus protection and removal features. However, the free version has limited features and you will need to purchase the premium version to access the advanced registry repair tool.
7. Iolo System Mechanic
Iolo System Mechanic from Iolo Technologies is an all-in-one solution for optimizing systems. The app features more than 50 small tools to accomplish a variety of tasks, including disk cleaning, registry repair, disk defragmentation, memory optimization, and more. However, the application is more complicated than many of the others on this list, so it's not quite as user-friendly for people without a technical background.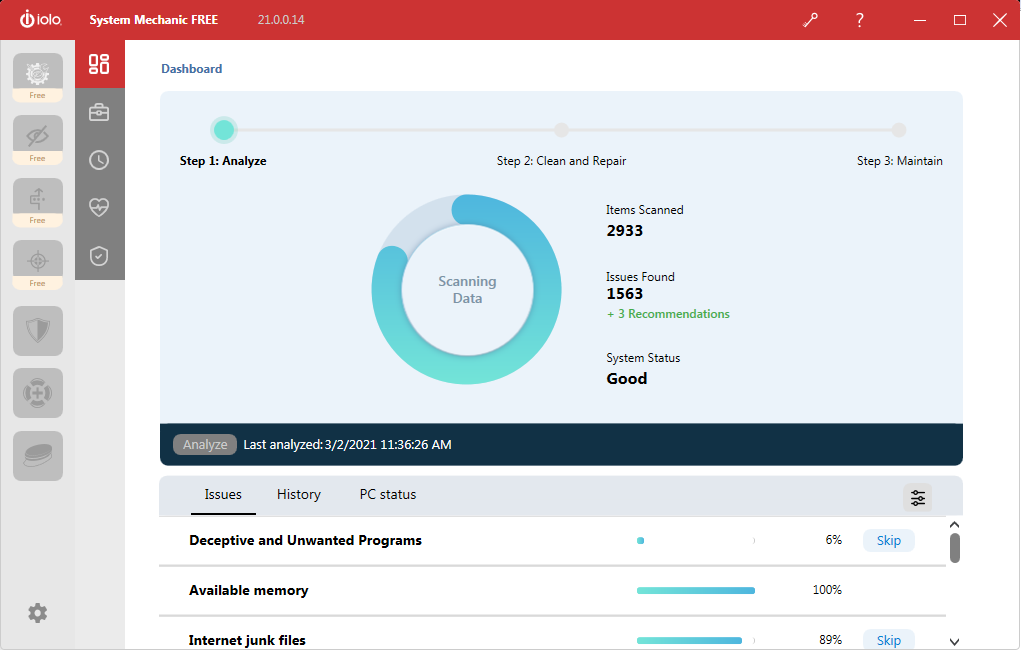 Iolo System Mechanic can remove more than 50 different types of junk files and erase sensitive Internet data to make your computer cleaner and faster. The app also blocks dangerous programs and system changes. Additionally, you can also utilize the system repair tool to diagnose and fix more than 30,000 different PC problems.
8. Glarysoft Registry Repair
Glarysoft Registry Repair is the perfect solution to safely scan, clean, and repair registry problems. It is a freeware app with a highly intelligent scanning engine that finds invalid registry entries and provides real results. The software functions similarly to all other registry cleaners. Glarysoft Registry Repair provides complete scanning and cleaning of invalid Windows registry entries and automatically backs up registry repair and ignore lists.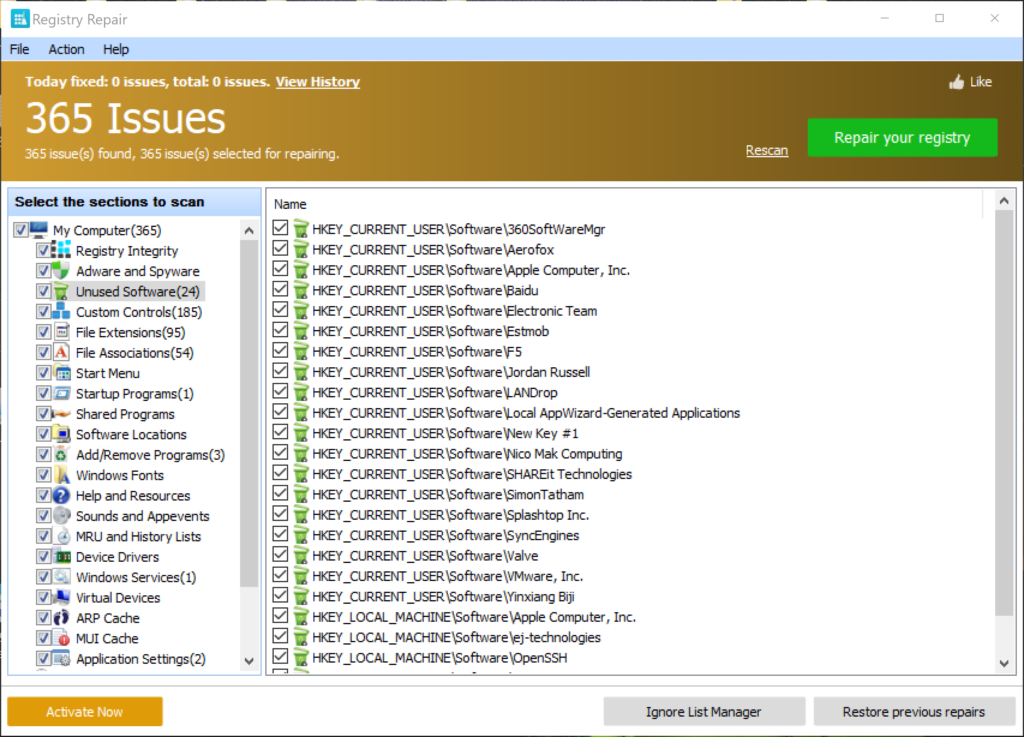 One feature unique to Glarysoft Registry Repair is the export feature, which can be used to save previous and updated registries in a specified folder.
9. WinUtilities Free
WinUtilities is an all-in-one package for PC cleaning and optimization. It comes with several modules to clean and optimize your PC.
It offers a fast and efficient system scanner and the ability to select the areas to be scanned and create restore points to back up previous Windows Registry settings. It has a Rescue feature that can be used to restore backed-up registries. It allows you to export a list of errors in an HTML file.
WinUtilities also offers the option to set days when restore points are automatically deleted, ensuring too much storage space isn't used up.
WinUtilities is available for 32-bit and 64-bit versions of Windows 11, 10, 8/8.1, 7, Vista, and XP.
10. AML Free Registry Cleaner
The last one on this list is AML Free Registry Cleaner. It comes with an easy-to-use user interface and a super-fast scanning engine to detect registry errors in Windows.
Just like other registry cleaners, you can run scans and create backup and restore points. You can also exclude some repaired registries by adding them to the exclusion list. This will save time and make the application more efficient.
This registry cleaner tool is available for 32-bit and 64-bit versions of Windows 10, 8, and 7.
What are the benefits of cleaning the registry?
There are multiple advantages to cleaning and repairing your registry, including:
• Repair invalid registry items.
• Delete entries of non-existent applications.
• Defragment and downsize the registry.
• Improve system response time.
• Prevent system crashes and blue screens of death.
• Dramatically improve overall PC performance.
How to repair and edit the Windows Registry?
You can repair and edit Windows Registry settings manually using Windows Registry Editor. However, since doing so is a time-consuming process, we recommend that you use one of the registry cleaners mentioned in this article, any one of which can scan your system for invalid and unwanted registry entries and fix them immediately.
Frequently Asked Questions
Q: What is registry cleaner software?
A: A registry cleaner is a piece of software that cleans the registry on your Windows PC. It finds and fixes all invalid or corrupted registry entries to make sure your computer runs properly.
Q: Why is it important to clean the registry?
A: Registry cleaning software can scan your registry to find and remove unwanted or corrupted registry entries. Doing so can enhance the overall health of your computer.
Q: Does Microsoft have a registry cleaner?
A: Microsoft does not have a built-in registry cleaner for Windows 11. You will need to install one to resolve registry-related issues.
Q: Should I use a registry cleaner for Windows 11?
A: It is important to find a reliable Windows 11 registry cleaner to clean registry entries to ensure your computer runs optimally.
Q: Will cleaning the registry speed up my computer?
A: Invalid entries can negatively affect system performance and cause programs to stop working, which can lead to system crashes and instability. Using a registry cleaner can resolve these issues and potentially speed up your computer.
Conclusion
Repairing and cleaning the registry is very important because registry entries play a vital role in the overall performance of your computer. Making sure your registry is properly maintained and not cluttered can prevent it from running slowly or crashing.
Refer to the list of top registry cleaners above to pick the right one for you, but for our money, Cleaner One Pro is the clear top dog. It's easy-to-use, powerful, and has every feature anyone could ever want in a registry cleaner.