Whether you're watching videos, using social media, or reading the news, online ads are annoying. Banner ads, pop-ups, and pre-roll ads are all bothersome, but sometimes they can even threaten your online security and privacy.
Many people aren't aware of it, but lots of online ads are malicious. They can download malicious files to your device, track your surfing habits, and collect your personal and location data.
Fortunately, there are numerous ad blockers available for Chrome nowadays, and in this article, we list the very best ones!
1. Ad Block One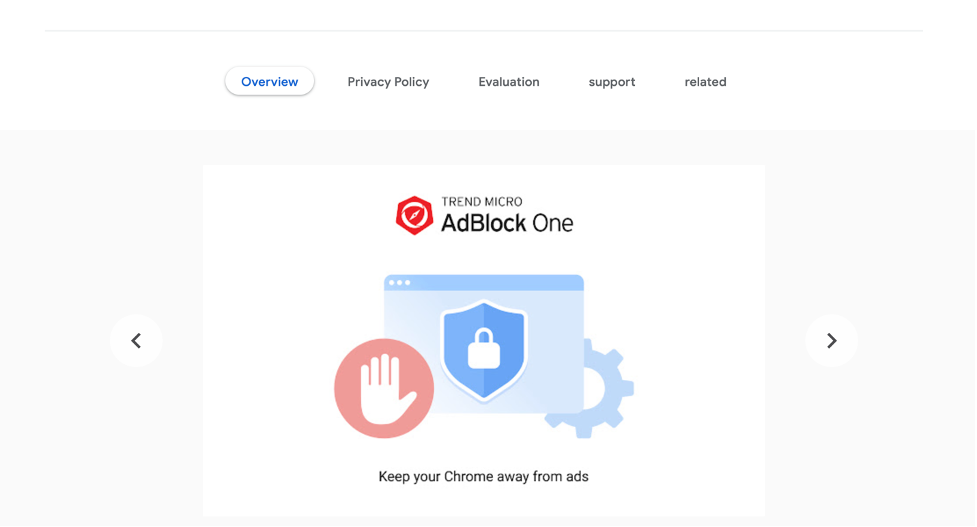 AdBlock One is our pick for the best free ad blocker for Chrome. The extension blocks intrusive ads, speeds up online page loading, and enhances PC security all at the same time. It can be used to prevent every type of online ad, including pop-ups and pre-roll ads.
Best of all, AdBlock One is completely free.
• Block all online ads. Enjoy a 100% distraction-free surfing experience.
• Protect your privacy and personal information by blocking malicious ads and invasive tracking cookies.
• Load websites faster. Don't waste your time waiting.
• Choose which elements you want to show on websites without breaking the page layout.
• Add the websites you want to support to your exceptions list so they can generate revenue from displaying ads to you.
2. AdBlock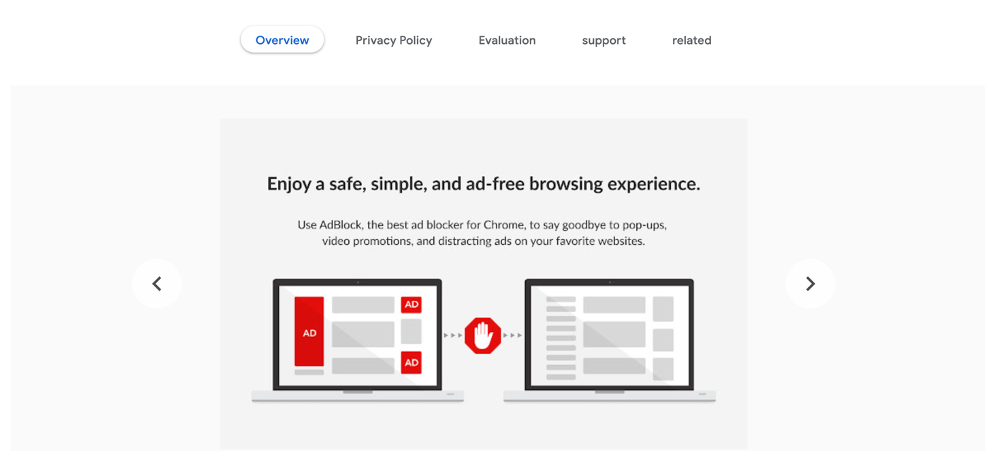 AdBlock is one of the most popular free Chrome extensions for blocking ads. It has the following advantages:
• Open-source and free.
• One of the best Chrome and Safari extensions for blocking ads.
• Boosts browsing speed.
• It blocks ads on YouTube, Facebook, Twitter, and more.
However, at times AdBlock can run a little slow, especially if you have multiple tabs open at once. Also, some people claim that it doesn't block YouTube ads very well.
3. Adblock Plus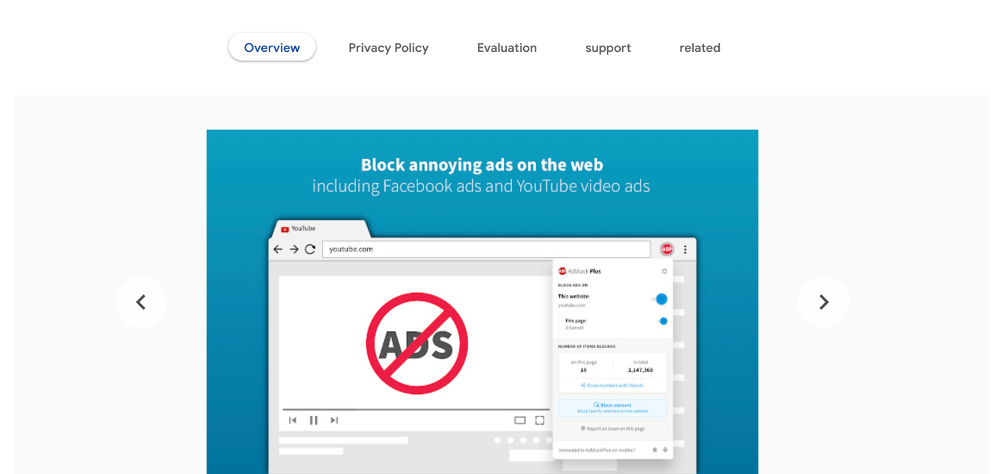 In terms of ad blocking, AdBlock Plus is one of the most popular options available today.
• It is open-source.
• Small companies can utilize it for free, while major organizations must pay a charge. This helps websites produce non-intrusive ad revenue.
• It supports Acceptable Ads (non-intrusive, sustainable ads). Companies can apply to be on the Acceptable Ads whitelist.
• Its easy-to-navigate UI lets you disable non-intrusive ads.
4. AdLock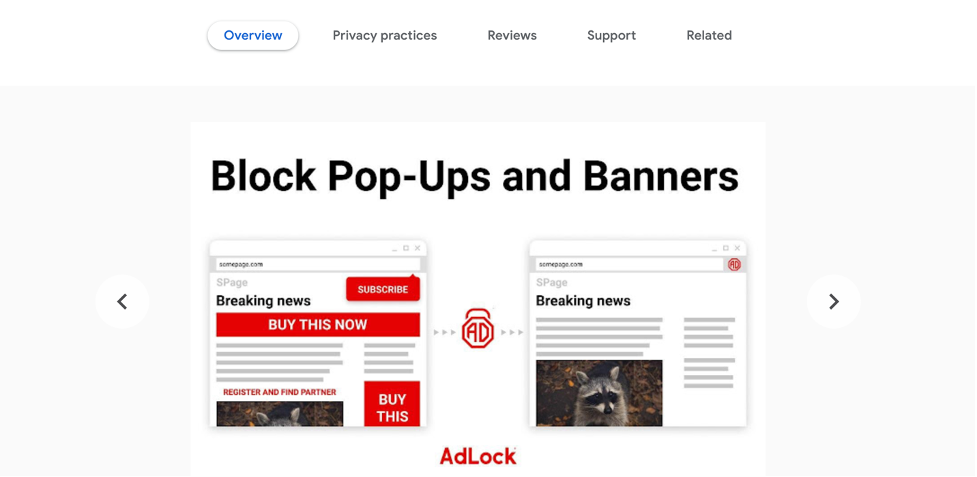 AdLock is easily one of the best tools out there. It can be used to prevent different forms of online advertisements, including pre-roll ads and pop-ups, as well as harmful websites.
• Free on the Chrome Web Store.
• Premium plans (with both annual and lifetime options) are available for Windows and Android.
• All products come with a 30-day money-back guarantee.
• Pages load swiftly.
However, it has some downsides, including:
• The app is not accessible on Google Play.
• It's not part of Acceptable Ads and doesn't whitelist sites, preventing requests to such sites from blocking external tracking.
5. uBlock Origin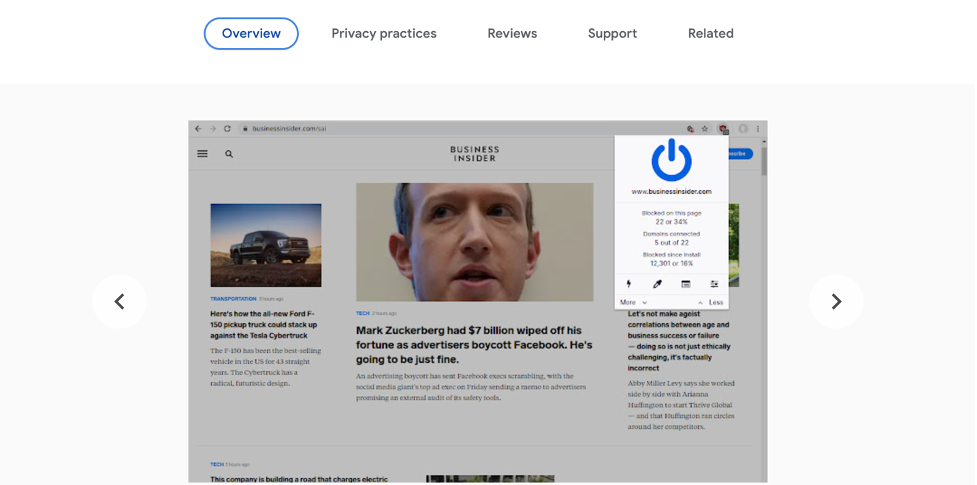 uBlock Origin is a browser-based ad blocker with more than 10 million Chrome installs. It has several notable features:
• Completely free.
• Permanently blocks ads in real time.
• Open-source and cross-platform.
• Can block banner ads, pre-roll ads, and pop-ups.
6. AdGuard AdBlocker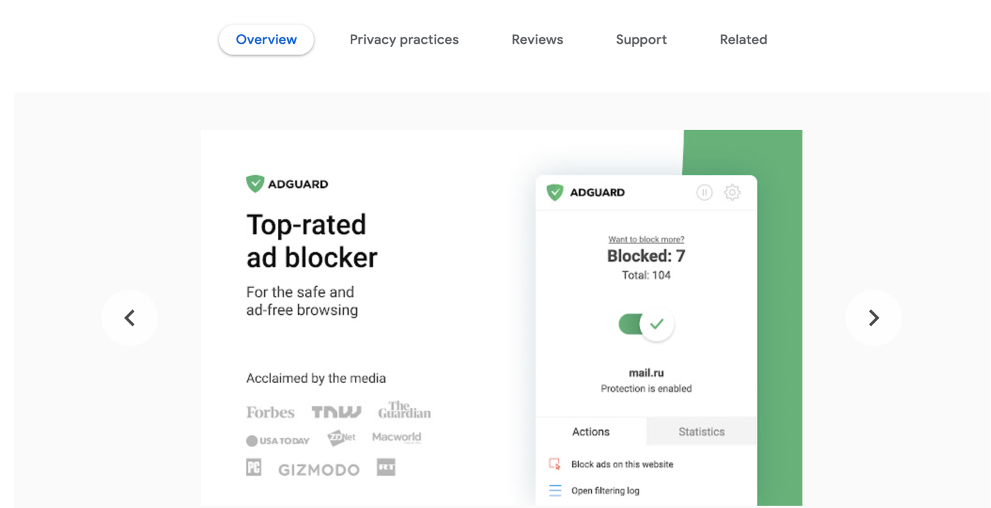 AdGuard AdBlocker was developed specially for Chrome and is regarded as one of the most effective ad blockers for the following reasons:
• Helps to prevent online fraud and tracking.
• Blocks pop-ups, banner ads, and pre-roll ads.
• Free for Chrome.
• Mac, Android, and iOS browsers support it too.
However, some minor drawbacks include the following:
• It's not on Google Play for Android and can only be downloaded through AdGuard's website.
• For the first 14 days, it's free to try, but after that, it's $2.49 a month or $79.99 a year, plus taxes.
7. Poper Blocker: Pop up blocker for Chrome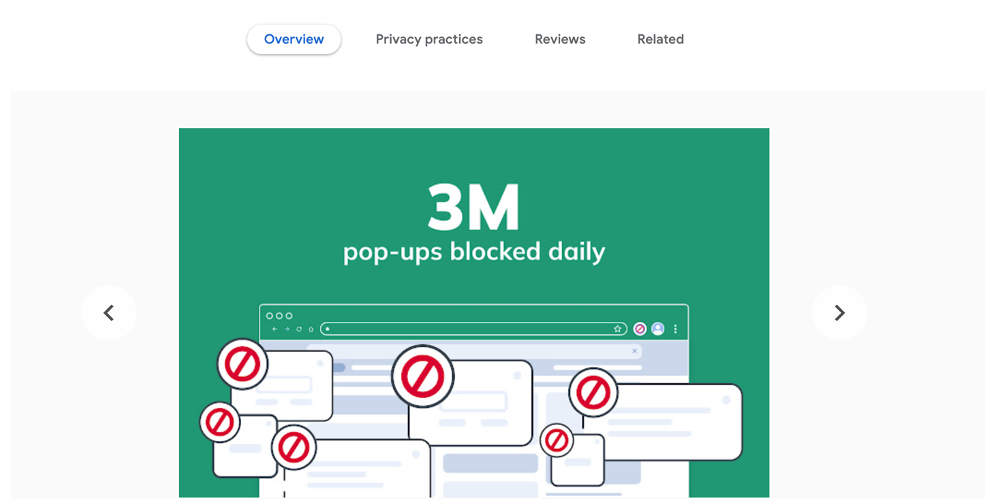 It's no surprise that Poper Blocker is a popular ad-blocking Chrome extension:
• Rather than serving as a replacement for other ad blockers, it serves as a supplement.
• It focuses on preventing pop-ups, pop-up overlays, timed and scrolling pop-ups, and often blocks ads that other ad blockers don't.
• It informs you whenever it blocks pop-ups, advertisements, and viruses.
• It can run alongside other ad blockers with minimal impact on your system.
Using an ad blocker can do a lot to improve your online privacy and security. If you're looking for a great ad blocker for Chrome, you can be confident that any of the solutions listed above will work superbly well.