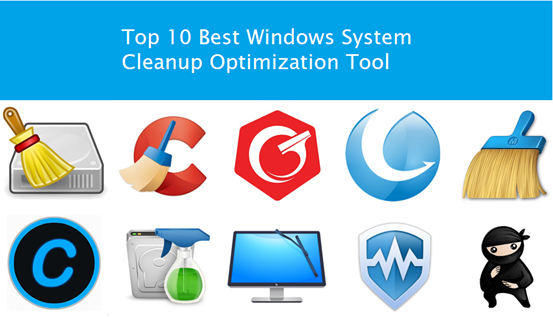 After a computer has been in use for some time, its overall performance will slow down due to frequent data storage and excessive startup items no matter you are using Windows 10 or Windows 11.You will need the help of pc cleaner and optimizer tool to clean up your hard drive and boost your PC performance.
Nowadays, there is a wide range of system maintenance and cleaning software on Windows. Choosing the right system tool is our top priority.
Listed below are variety of pc cleaner and optimizer for Windows.Let's see which PC cleaner tool will works best for Windows 11 or Windows 10.
Top 10 Best Windows Cleaner Apps
1. Cleaner One Pro Windows
Cleaner One Pro Windows is an all-in-one disk cleaning and optimization software that frees up disk space by removing invalid and unnecessary files.
Cleaner One Pro scans your PC quickly, and then displays the garbage files, so you can decide which of them you want to be removed. Cleaner One Pro also provides advanced features such as Startup Manager, Application Manager and Registry Cleaner.
Its system junk file scanning is surprisingly comprehensive.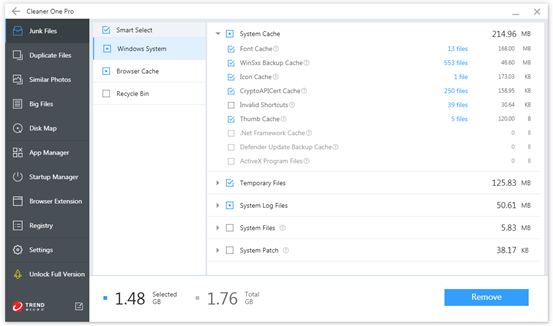 Features & Benefits:
● Good system & browser-cleaning capability
● Minimalist and intuitive user interface
Get It Now
2. CCleaner
CCleaner is a multi-version system cleaner developed by Piriform. It cleans unwanted junk files from your computer's system, web browser, etc.
CCleaner has long been the most popular system cleanup tool for Windows operating systems, but at the same time, a very controversial software.
Since its acquisition by Avast, it had more and more problems, which led many to question whether CCleaner is safe and trustworthy.
Users always complain that CCleaner installs bundles you do not want along with the installation, and will jump out of the push ads.
There was a time, two months after it was acquired by Avast; the software was compromised by Floxif malware, resulting a serious threat to users' computer privacy security.
Those were the reasons why it was placed second.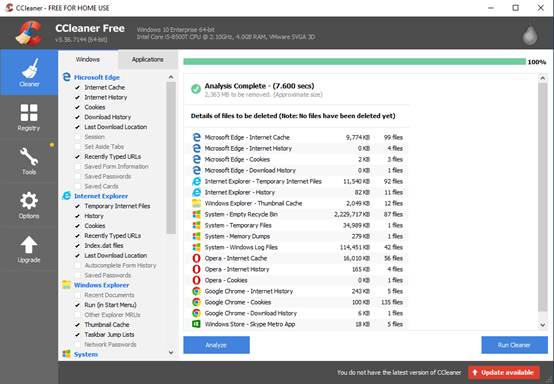 Features & Benefits:
● Comprehensive cleanup capability
● Large user base, better understanding of user needs
Get It Now
3. BleachBit
BleachBit is a free open-source disk space cleaner, privacy manager, and computer system optimizer for Windows and Linux operating systems. It can maintain your security and privacy, and help you free up a lot of space in your computer.
This software provides a very simple user interface that allows you to easily select the file types you need and don't need.
Lots of cleanup options, but the user interface is a bit cluttered and overwhelming to non-advanced users.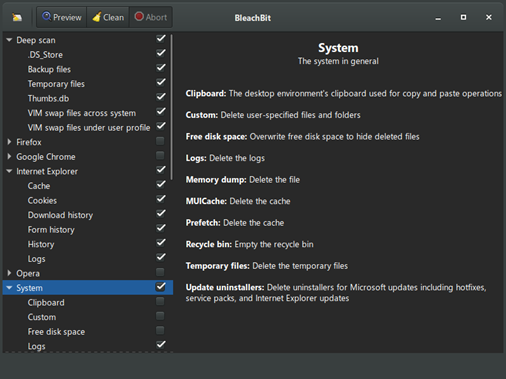 Features & Benefits:
● Lightweight with simple interface
● Open source
Get It Now
4. Glary Utilities
Glary Utilities is a system cleaner and performance booster for your Windows PC. A powerful and advanced tool that helps you take care of your computer system well.
It maintains and optimizes the current operating system, allowing your computer to regain lost performance. An all-in-one utility software that can effectively prevent errors and crashes from occurring in the system.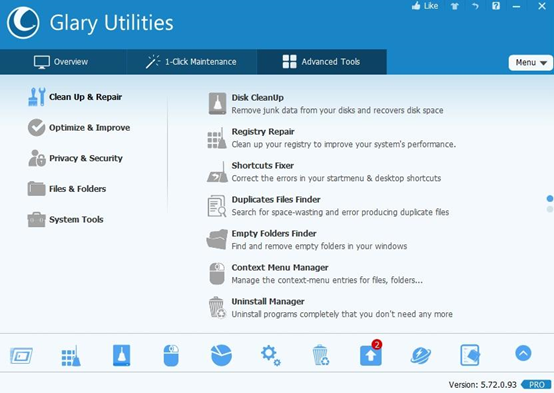 Features & Benefits:
● All-in-one tool software
● File cleaning and repair functions
Get It Now
5. Clean Master
Clean Master is the most popular APP for clearing unnecessary files from your system on Android phones.
It offers free downloads for use and provides tools to remove cache and junk files, as well as an integrated antivirus software to remove viruses and malware. It also has an app lock, a game performance optimizer, a memory optimizer, a battery protector and more.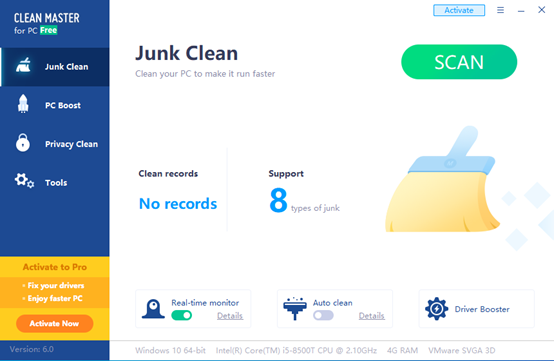 Features & Benefits:
● Integrated antivirus software
● App lock and photo privacy protection
Get It Now
6. Advanced System Care
Advanced System Care is one of the most powerful system optimization software on Windows operating system. It helps you to clean up all kinds of junk files and speed up Internet connection so that your computer runs faster.
It also helps you delete unwanted applications, directory files, registry, etc., as well as remove malware from your computer.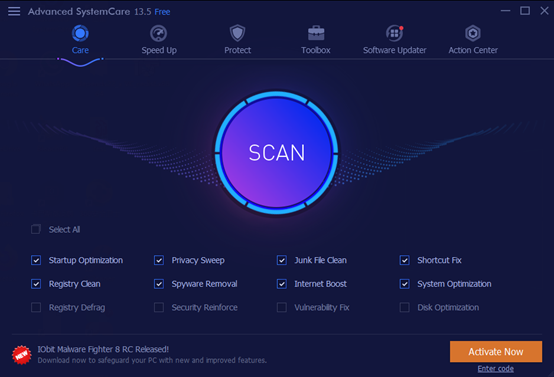 Features & Benefits:
● Integrated malware and antivirus software
● Deep file cleaning and system performance optimization
Get It Now
7. Wise Disk Cleaner
Wise Disk Cleaner, which has a file size of only 4MB, is fast and easy to use and can help you free up a lot of space on your computer.
It clears out some space for you quickly by deleting unused junk files from your computer. In the latest version, it improved the Metro Cache cache tool and the WinSxS backup tool, and made the interface more user-friendly for newbies.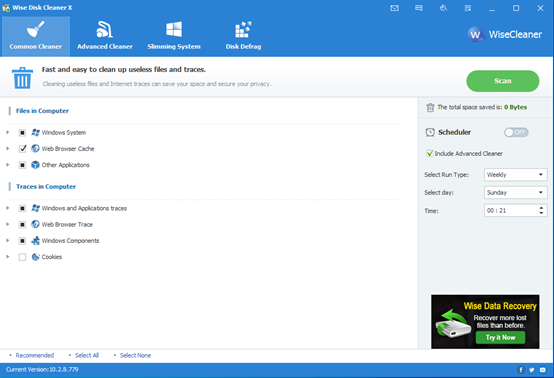 Features & Benefits:
● Lightweight software
● Organizes and rearranges documents
Get It Now
8. CleanMyPC
CleanMyPC is system cleanup software that keeps your computer clean and makes it run faster.
It scans the entire computer for unwanted junk documents, improving overall performance of the system, hence getting very high usage ratings.
In addition, it offers many features, including handling registry issues, uninstall unneeded applications, and speed up Windows boot-up.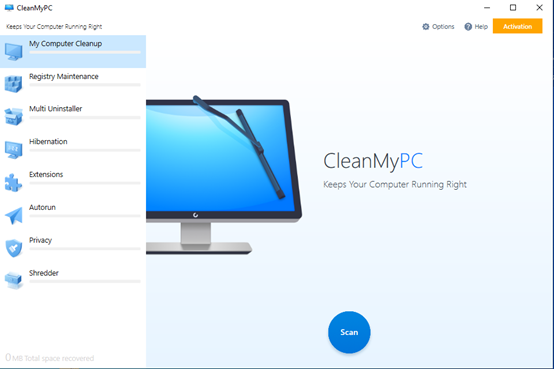 Features & Benefits:
● Easy to use
● Restore large files
Get It Now
9. Wise Care 365
Wise Care 365 is an all-around utility to manage, maintain, configure and troubleshoot computers for Windows operating systems.
Wise Care 365 is a software that combines features of Wise Disk Cleaner and Wise Registry Cleaner into a single package: the ability to clean up invalid registries, useless files, and optimize registry fragmentation and disk fragmentation effectively. In addition, the free software offers a number of other tools to use such as Wise Data Recovery, Wise Folder Hider and more.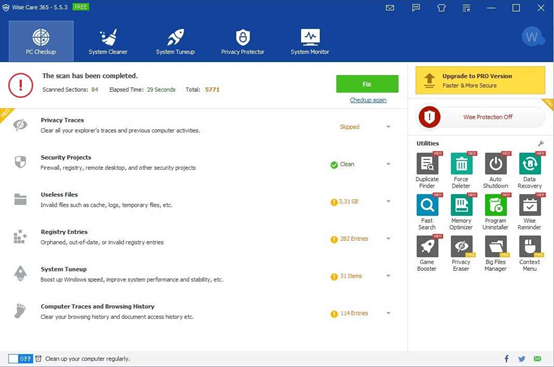 Features & Benefits:
● One-click optimization clean up option
● Power Uninstall and File Recovery
Get It Now
10. System Ninja
System Ninja is a fast, powerful and effective software that optimizes Windows systems for a faster computer performance.
System Ninja provides excellent tools such as garbage cleanup program, process manager, startup manager, system analysis and translation.
Whichever browser you use, you can easily clear its junk files.
It also has an efficient application uninstaller that can completely uninstall any software from your computer and delete its saved files.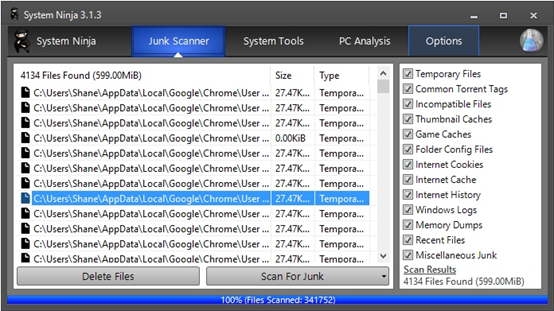 Features & Benefits:
● Extendable via plug-ins
● Provides a nice speed boost
Get It Now