Whether you are using YouTube, Safari, or social media apps, you're most likely used to seeing ads everywhere — at the start of every video or just popping up out of nowhere. iPhones and iPads certainly aren't immune to annoying ads, which have been known to spread various types of malware.
Fortunately, there are plenty of excellent ad blockers for iOS and iPadOS, so you never have to be bothered by annoying ads again! In this article, we list the best ones.
1. AdBlock One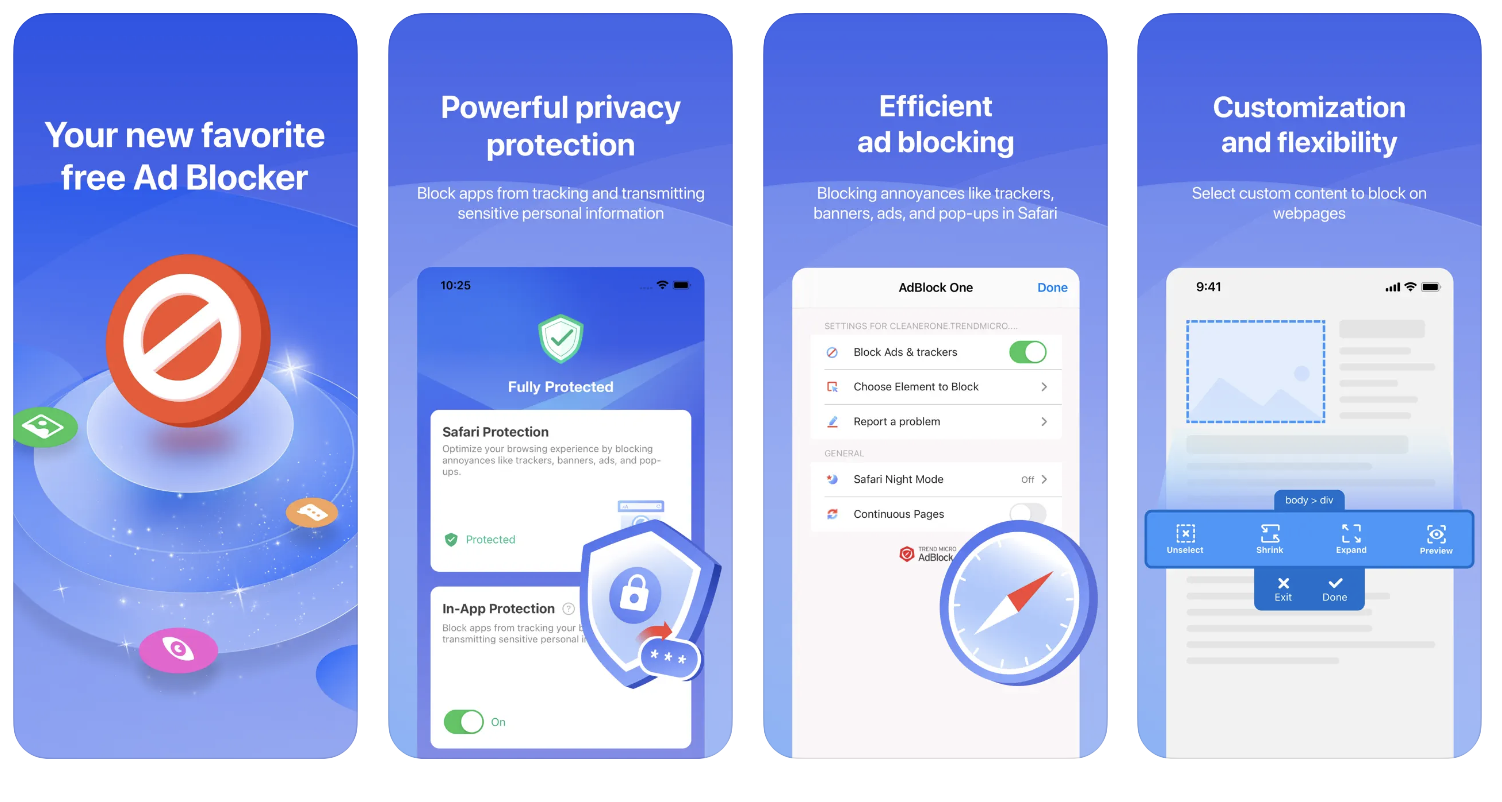 AdBlock One is our pick for the best ad blocker. It is FREE — and specifically designed for Safari and macOS/iOS. Once downloaded to your iPhone or iPad, all you need to do is turn it on and it will take care of the rest. It's that easy! AdBlock One can block pop-ups and other ads on millions of websites when browsing using Safari, including Facebook, YouTube, and Twitter.
Blocks ads effectively so you can enjoy a 100% distraction-free surfing experience
Let's you browse the web safely by protecting against malicious ads and invasive tracking cookies
Webpages will load faster because ads are blocked
Create customized block lists and filters
Selectively display ads by adding your favorite websites to the exception list.
Price: Free
2. AdBlock Plus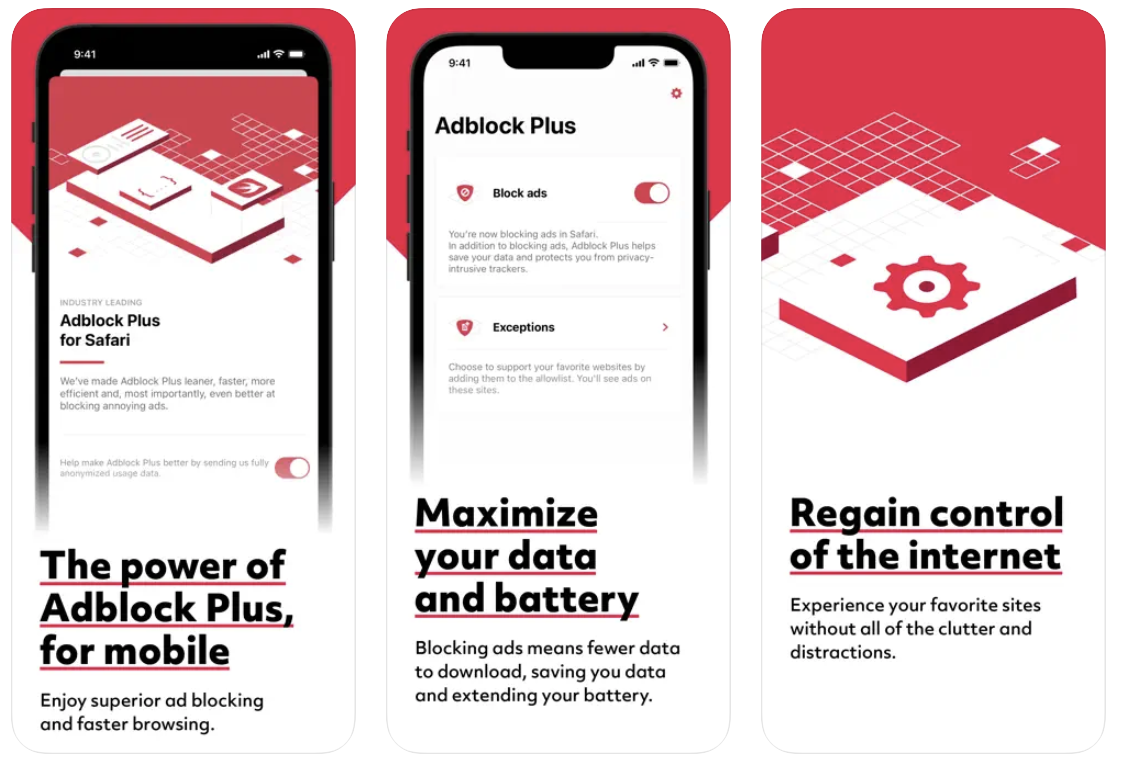 AdBlock Plus is one of the most popular ad blockers available. In addition to regular ads, it is also great at blocking pop-ups and floating video ads. Some benefits/features include:
Open-source and free
A simple user interface
Customized whitelisting for your favorite websites
Support for Acceptable Ads (non-intrusive, sustainable ads)
If you wish to see no ads at all, you will need to manually turn on the Acceptable Ads filter — which isn't enabled by default.
Price: Free
3. 1Blocker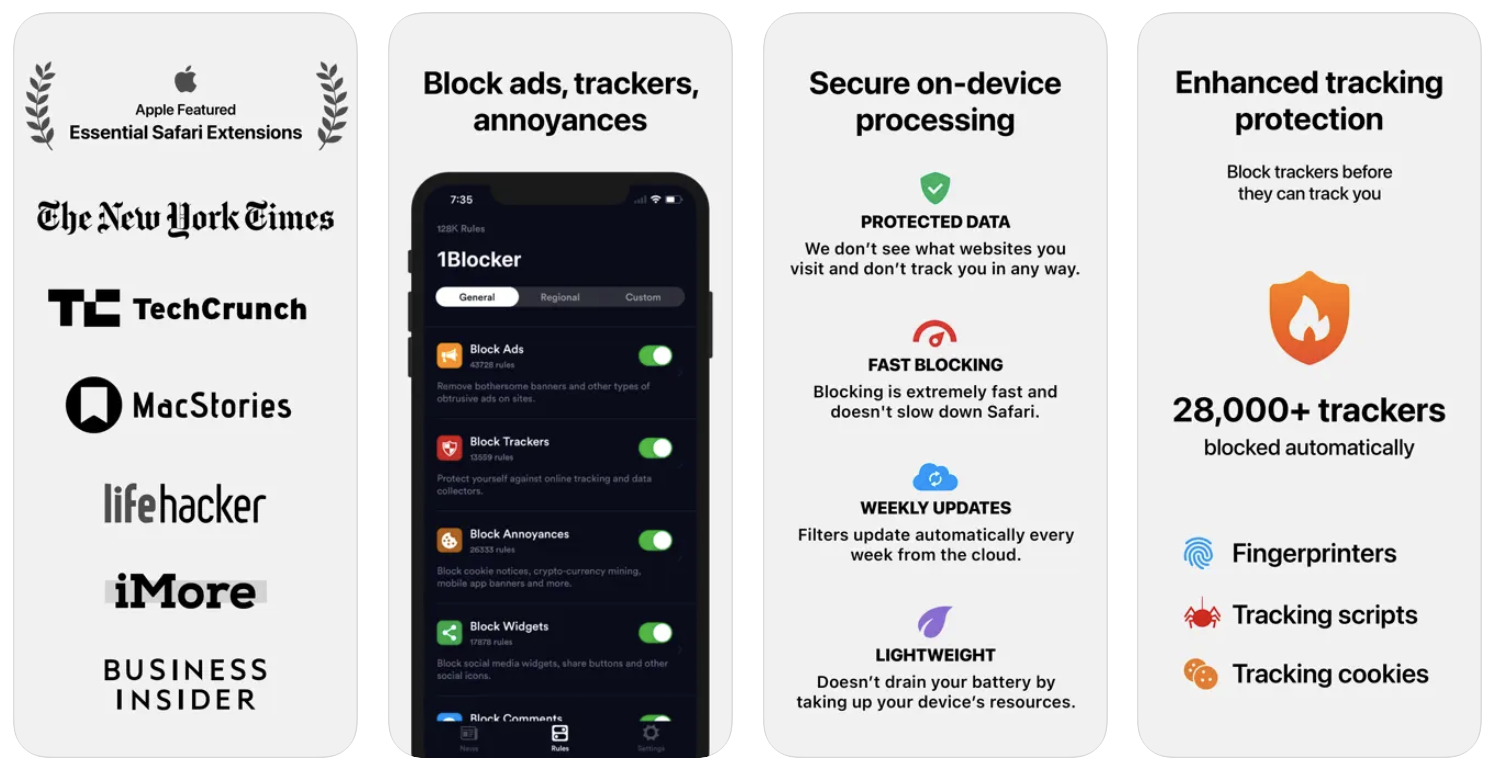 1Blocker is regarded as one of the most effective ad blockers for the following reasons:
Free
A toggle-based interface
Helps boost browsing speed
You can sync your preferences across different devices using iCloud
This app is optimized for Safari and very lightweight, so it won't drain your phone's battery. It also provides system-wide protection from in-app trackers, but this feature is only available in its paid version.
Price for paid version: $2.99 /month, $14.99 /year, or $38.99 for lifetime
4. AdGuard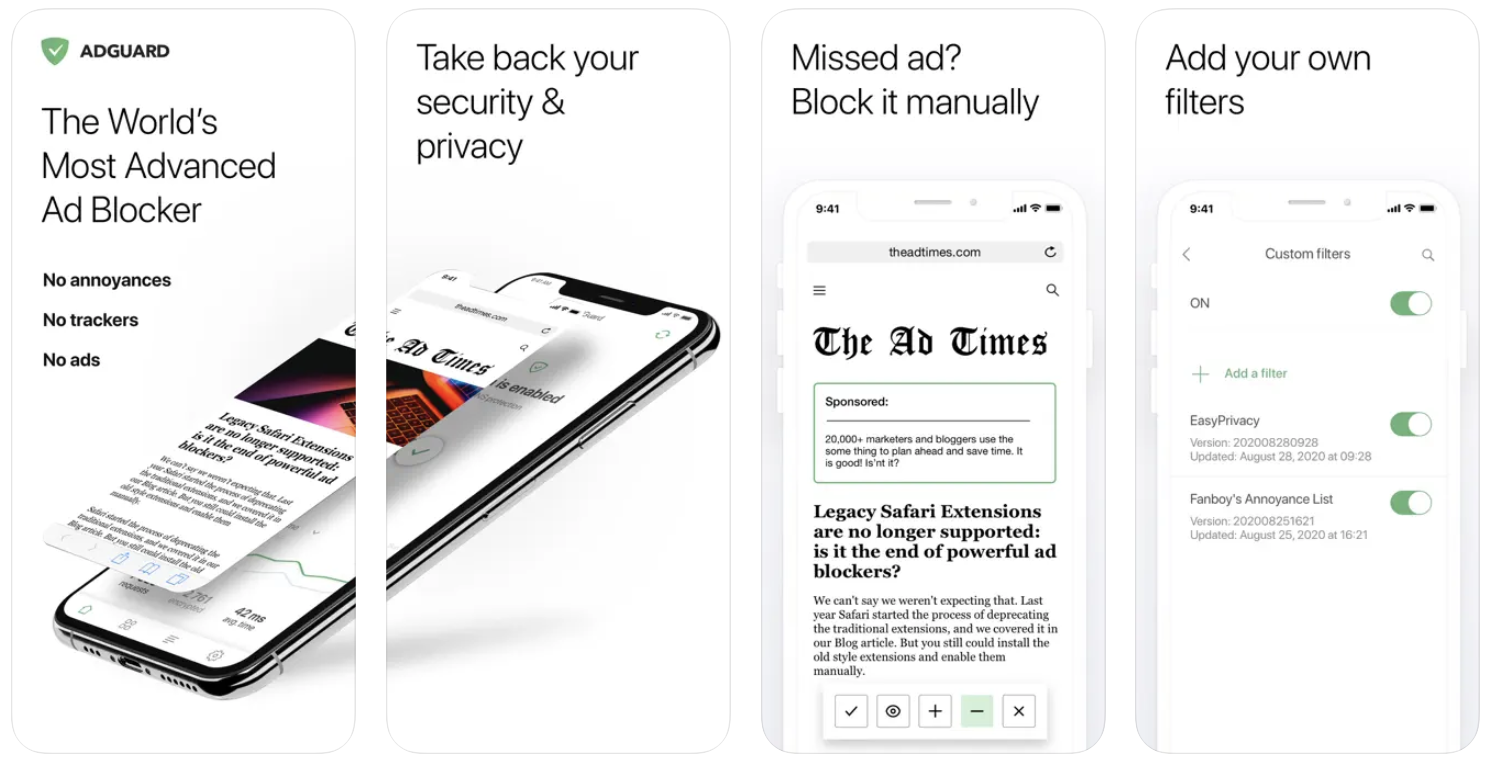 AdGuard is a full-fledged app for mobile operating systems. Not only does it block ads, but it also allows you to hide your IP address when surfing.
Simple and easy to use
Offers DNS protection in its paid version
Parental controls
60-day money-back guarantee
Not all its competitive features are free. However, if you don't mind paying for some extra features, AdGuard is a really good choice.
Price for paid version: $2.49 /month on a yearly plan or $79.99 lifetime
5. AdLock
AdLock can be used to block different forms of online advertisements, including pre-roll ads and pop-ups, as well as protect you from harmful websites.
Blocks third-party trackers and ad/malware intrusion attempts
Blocks ads on Skype and games
Spam and scam link warnings
30-day money-back guarantee
It doesn't support Acceptable Ads, so it will block all ads — even on websites you would rather whitelist. However, it offers protection from malicious websites and will keep you safe from third-party trackers.
Price for paid version: $30 /year or $75 lifetime
6. TotalAdblock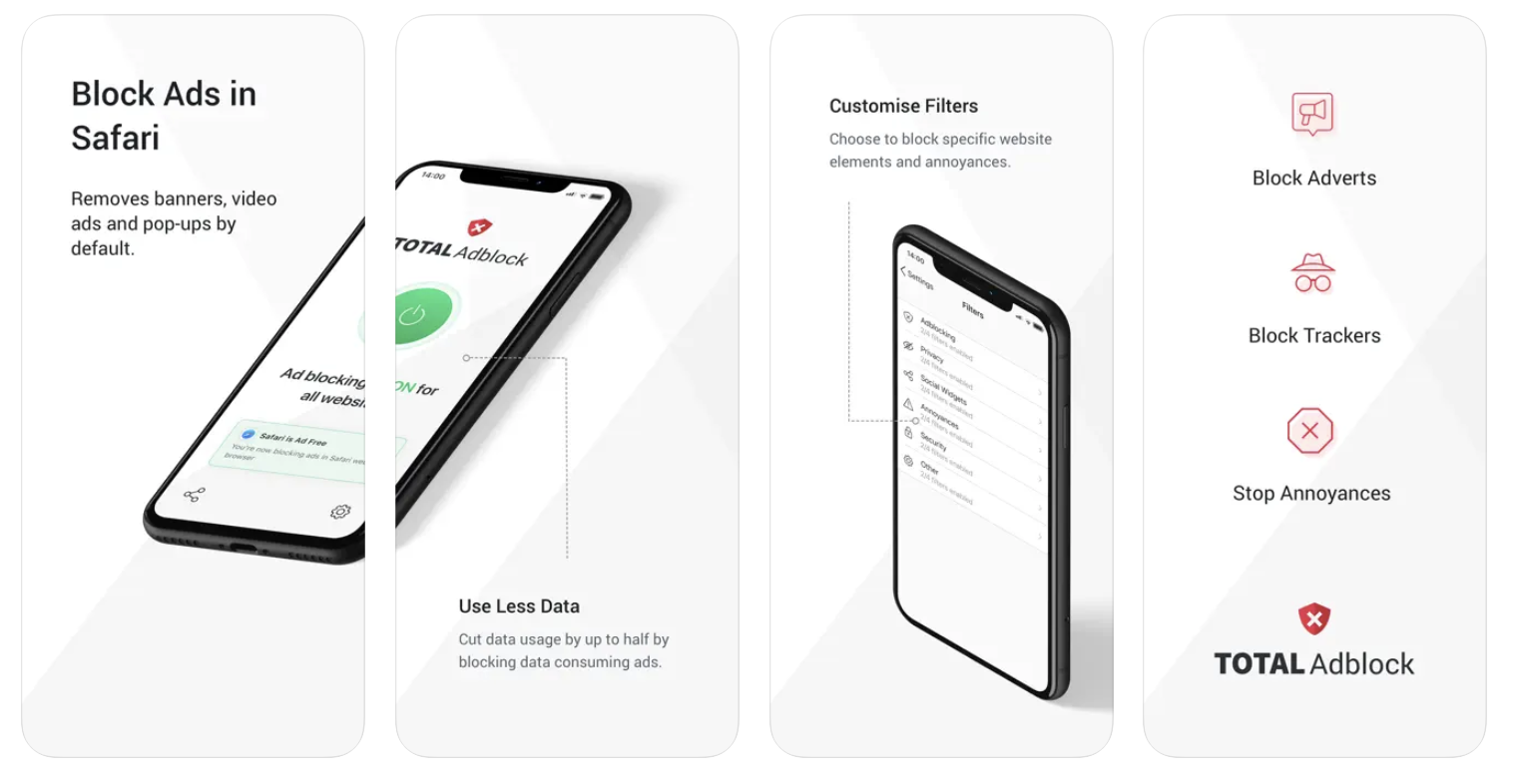 TotalAdblock is easily one of the best tools out there for blocking ads. It can be used to prevent different forms of online advertisements, including pre-roll ads and pop-ups, as well as protect against harmful websites. Its advantages are as follows:
Optimizes page loading speed
Protects personal data
Compatible with any web browser
However, it has a downside. It cannot remove browser notifications unless you subscribe to the premium plan.
Price for paid version: $29 /year
7. Wipr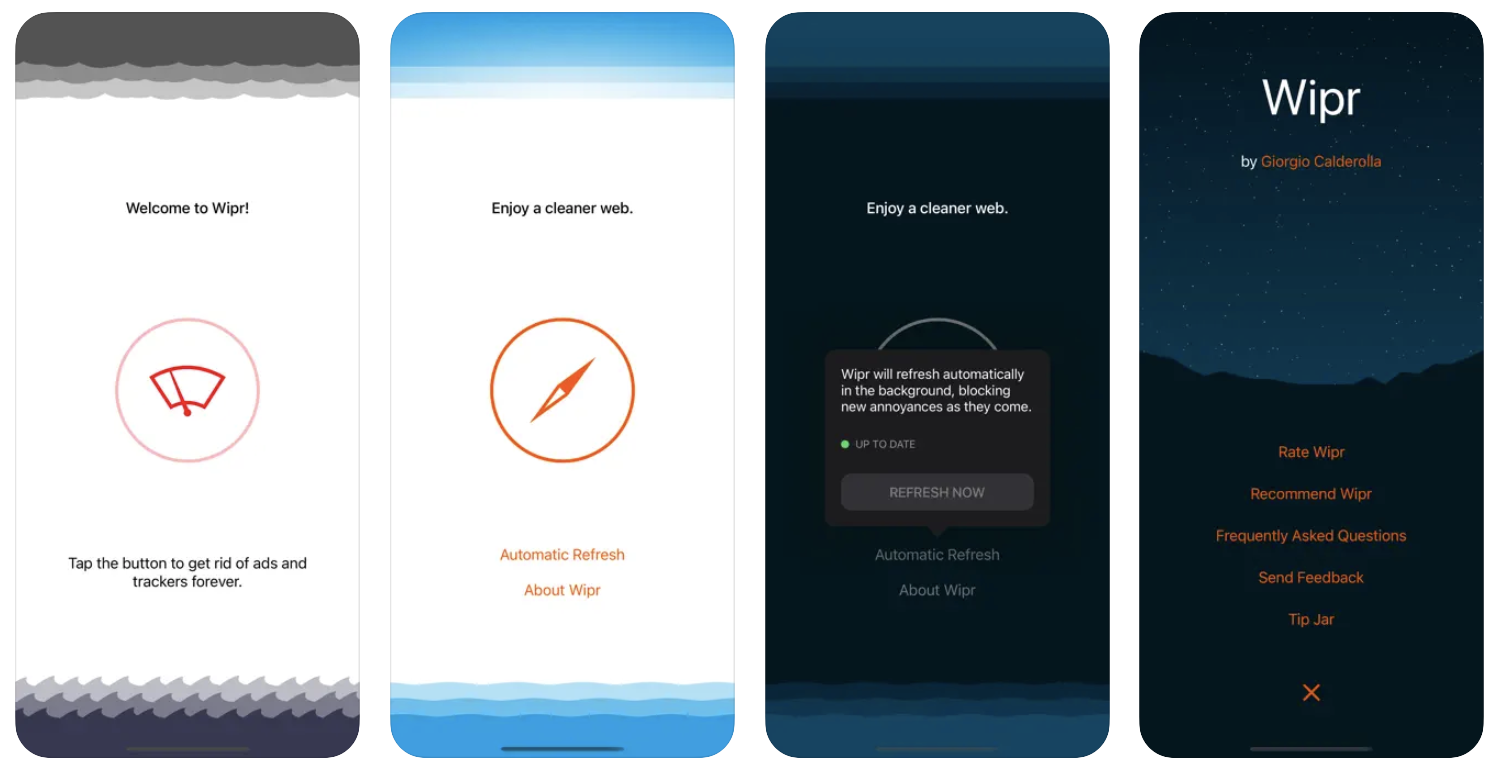 Wipr may be the best choice for macOS and iOS. It works with Safari as well as apps that use Safari for displaying webpages. It has several notable features:
Loads webpages faster in Safari
Blocks cryptocurrency miners and EU GDPR cookie notices
Its blocked site list is updated automatically
Supports 21 languages
Price: $1.99
Any Choice Is a Good Choice
Using an ad blocker can do a lot to improve your online privacy and security. If you're looking for a great ad blocker for iPhone and iPad, you can be confident that any of the solutions listed above will work superbly well.