To optimize the limited storage space on Mac, we need to delete unwanted files and applications. However, sometimes uninstalling apps or programs is not as easy as simply dragging the files to Trash. This is a step-by-step tutorial all about uninstalling Mac apps you no longer need. We'll also show you how to remove and uninstall Microsoft Office and Adobe apps.
Uninstall apps on Mac with Launchpad
If you're also an iPhone user, then this method will sound pretty familiar.
– Click Launchpad (if it's not on your dock, find it through Finder – Applications).
– Find the app you want to uninstall, click and hold it for a few seconds until all apps are shaking.
– If there is an "x" appearing on the top left corner of the icon, click it and you will delete this app.
Not all apps can be deleted through Launchpad. Sometimes the "x" will not appear. If so, you can use the next method.
Uninstall apps on Mac with Finder
It's also quite straightforward to uninstall apps using Finder.
Go to Finder – Applications.
Find the app you want to delete.
Use two fingers to click the trackpad, then click "Move to Trash."

Or, choose the app and press Command + Delete.
Open Trash and click "Empty."
You can use this method to delete any application, no matter where you downloaded them from. But for some apps, especially Microsoft Office apps and Adobe Creative Cloud, you may need a few extra steps to clean up related junk files.
Use Terminal
For more advanced users, uninstalling apps using Terminal can be an option. Terminal is a command-line interface that allows you to perform various tasks on your Mac, including uninstalling apps. To uninstall an app using Terminal, follow these steps:
Open Terminal by searching for it in Spotlight or by opening it from the Utilities folder in the Applications folder.
Type "sudo rm -rf /Applications/AppName.app" (without quotes) and press enter. Replace "AppName" with the name of the app you want to remove.
Enter your password and press enter. The app will be uninstalled.
Note: Uninstalling apps using Terminal is a more advanced process and can be dangerous if not done correctly. Be sure to type the command precisely, or you may delete important files.
Uninstall Microsoft Office for Mac
Before you uninstall any Microsoft Office app, please remember that after the uninstallation you won't be able to open files with it. For example, after uninstalling Microsoft Word, you can't open files that ended with .docx . Make sure that either you really don't need all these files, or you have some alternative apps to open them. Also, remember to back-up any information you may need before deleting the apps.
– Check the version of your Microsoft Office.
– If it's the 2011 version, just follow the previous method to delete the application itself, either through Launchpad or Finder.
If it's a newer version, you need to remove junk files using User Library Folder manually. Here's how:
Open Finder, press Command + Shift + g.

Enter ~/Library in the pop-up window and click Go.

Open "Containers." Ctrl + click all the following folders (sometimes not every folder on this list will appear, just choose the ones you have on your Mac) and move them to Trash. If you are only uninstalling one app, just choose the folder with a corresponding suffix.
com.microsoft.errorreporting
com.microsoft.Excel
com.microsoft.netlib.shipassertprocess
com.microsoft.Office365ServiceV2
com.microsoft.Outlook
com.microsoft.Powerpoint
com.microsoft.RMS-XPCService
com.microsoft.Word
com.microsoft.onenote.mac
Go back to the Library folder, open "Group Containers."

Ctrl + click these following folders if present and move them to Trash.
UBF8T346G9.ms
UBF8T346G9.Office
UBF8T346G9.OfficeOsfWebHost
Finally, ctrl + click the Office apps you have in your Dock (skip this step if you don't have any). Click Options – Remove from Dock.
Restart your mac to complete the uninstallation.
Uninstall Adobe Creative Cloud apps for Mac
If you want to uninstall individual Adobe Creative Cloud app, such as Photoshop or Lightroom, follow these steps:
– Open Adobe Creative Cloud.
– Click "Apps" to see the installed apps.
– Click "…" icon for the app you want to uninstall, then click "Uninstall."



– Follow the on-screen instructions.
If you want to uninstall the desktop app of Adobe Creative Cloud, you need to complete the steps above and remove all the individual apps first. Then,
– Download Adobe Creative Cloud Uninstaller. If you can't find it, go to the website https://helpx.adobe.com/creative-cloud/help/uninstall-creative-cloud-desktop-app.html
Find the version you need, download the ZIP file and follow the instruction on this page.
– Open Creative Cloud Uninstaller.
– If the administrative password is required, enter it and press OK to continue.
– Click "Uninstall."
– Close the page when the confirmation shows up.
Now the desktop app is also deleted. To clean up more space, you can also delete those related files.
– Open Finder, press Command + Shift + g.
– Enter ~/Library in the pop-up window and click Go.
– If you see any Adobe-related files, move them to trash.
– Go back to Finder, use the same method to delete related files in
~/Library/Preferences
~/Library/Application Support
Uninstall Programs with Cleaner One Pro
Although it is not difficult to delete the apps through Finder or Launchpad, for apps such as Microsoft Office and Adobe Creative Cloud, it can be quite complicated to clean up the related junk files. There are also risks of accidentally removing files vital for your Mac's operation. To avoid this risk and clean up your Mac more efficiently at the same time, you can download Cleaner One Pro.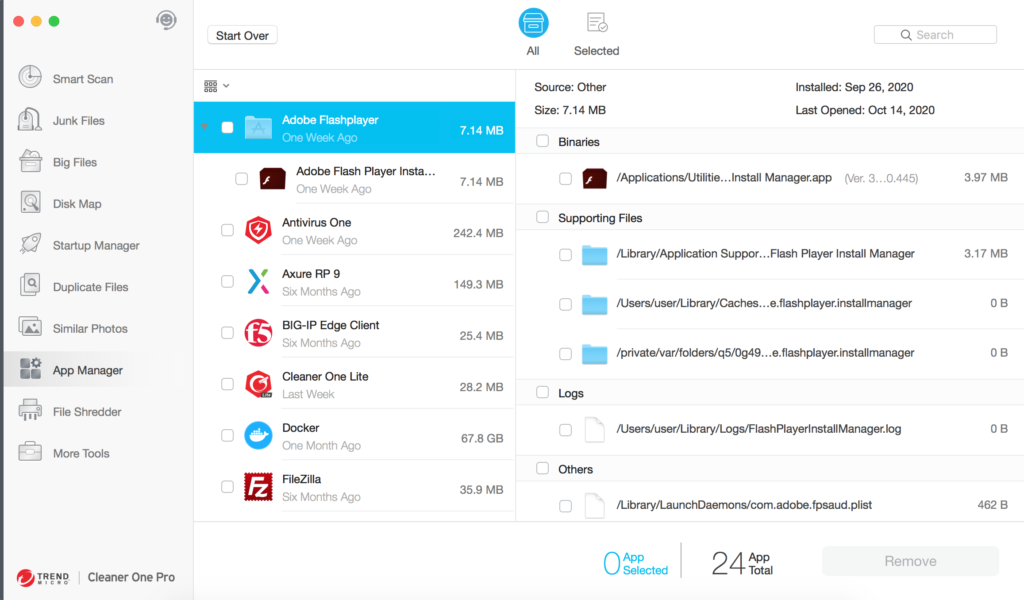 It is an all-in-one disk cleaning and optimization tool that can visualize and manage your storage and apps. With App Manager, you can look at all your installed apps and related system files. It also has other useful functions and can help you remove large files, similar photos and duplicate files. Cleaner One Pro will not only help you with uninstalling the apps, but also freeing up more space and make your Mac run more smoothly.
For the detailed tutorial, you can refer to the step by step guideline listed below: