The Binarymove virus has been a trending search term since 2021. The malware has caught a lot of people off guard, infecting computers across the globe. If you think you might be a victim of Binarymove, to help you get your healthy Mac back, keep on reading to learn everything you need to know about detecting and removing the virus.
Is Your Mac Infected by the Binarymove Virus?
If you've recently encountered a myriad of fake virus alerts, bogus Flash update prompts, survey scams, or advertisements for get-rich-quick schemes, your Mac may be infected by the Binarymove virus. You may find that your web browser, or even your entire Mac, slows down because of all the ads and malicious messages bombarding your screen.
To stop the interference it causes, you should first understand the essence of the Binarymove virus, then understand the reason for its appearance, finally, learn how to remove the virus to give your system a clean bill of health.
What Is Binarymove Virus?
The Binarymove virus is a browser hijacker, or browser redirect virus, aiming to invade browsers, change their settings, and ultimately use them as advertising platforms to aggressively promote certain products and services.
Why Is Your Mac Invaded by the Binarymove Virus?
Although Apple provides multiple layers of protection to help ensure that apps from the App Store are free of malware, and macOS includes state-of-the-art antivirus protection to block malware, many Mac users have still fallen victim to the Binarymove virus.
How is this possible? The answer is actually quite simple: The infiltration always happens when users either unknowingly download an unapproved app (usually a free one) from a third-party site or click on a fake Flash update prompt.
Binarymove's payload comes in the form of annoying ads and web browser redirects. Many people are completely unaware that their Mac is infected with Binarymove until the ads and other annoyances simply become too much.
You can avoid a Binarymove infection by not downloading apps from outside the App Store and watching out for fake Flash player prompts.
How to Remove the Binarymove Virus from Your Mac
If your Mac has been infected with Binarymove, you can remove it in two ways: remove the virus manually or use an anti-malware app such as Antivirus One. Instructions for both methods are below. However, if you do not have previous experience removing viruses manually, it's best to skip to method 2.
Method #1 — How to Remove the Binarymove Virus Manually
Manually removing the Binarymove virus includes stopping the program's process, deleting the program, and cleaning your Mac of its associated files. Here's how to do it:
Click Go > Utilities.


Select and open Activity Monitor.


Find Binarymove's process (here we use zoom.us as an example) and press the Stop button.


In the pop-up window, click Force Quit to stop the process completely.


Go back to the desktop and click Go > Applications.


Find any suspicious apps that you don't recognize and move them to Trash. These are likely to be related to Binarymove.


Go back to the desktop and click Go > Go to Folder.


Type in /Library/LaunchAgents/ and press the Enter key:


Delete all the virus-related files. Be careful not to delete any important system or personal files. If you're not sure which ones you should delete, skip to the next section to learn how to remove Binarymove automatically.

Method #2 — How to Terminate the Binarymove Virus Automatically
To make the process of removing Binarymove as easy as possible, it's best to use an antivirus app such as Antivirus One.
When you use Antivirus One you can be sure that you won't delete any important files that aren't related to Binarymove. It works great for eliminating all types of malware and viruses, not just Binarymove, too.
Removing Binarymove with Antivirus One couldn't be easier. Simply click Scan > Full Scan to completely remove Binarymove and all other malware from your Mac.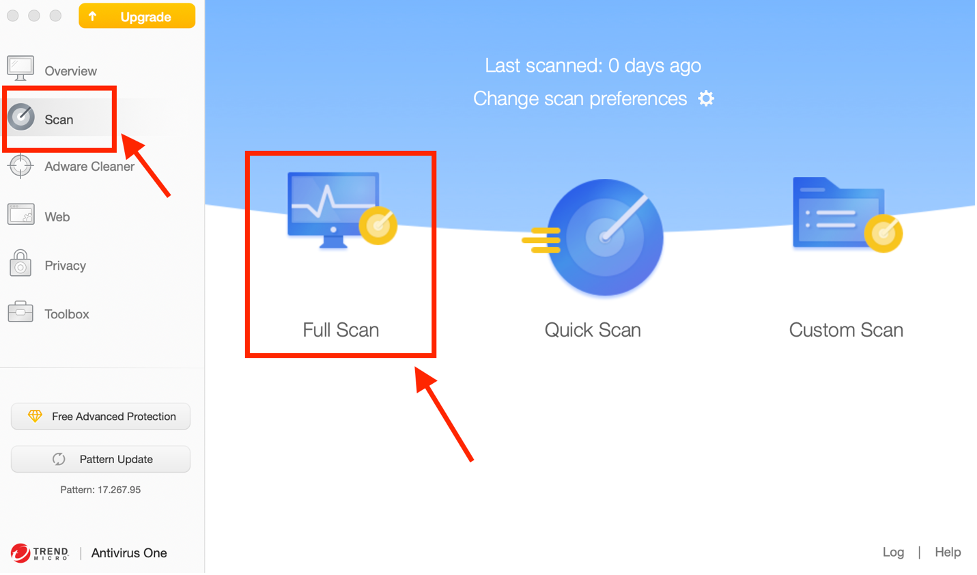 Antivirus One can also block web threats, safeguard your privacy, help you browse the web safely, and avoid online scams and fraud. Click here to download for free.