Even if MacOS has an incomparable built-in security system, it does not mean your Mac will be safe all the time.
According to 9to5mac, many users installed spyware on their Mac but did not realize them as spyware always feign as a common App, which is hard to identify.
Spyware is a kind of malicious software that collects user's personal or organizational information without permission. The data collected can be sent to another entity without the consumer's consent.
Type of Spyware
Based on the spyware characteristics, they can be grouped into 4 types:
• Adware
Adware are unwanted software that throw ads on your screen. With pop-ups, browser hijacking and other methods, you might be redirected to a phishing site, advertising sites and etc.
• Keyboard Loggers
Keyloggers are harmful keyboard tracking programs. They might record your user name, password, credit card and other sensitive personal information, then send the data to a preset e-mail address.
• Trojans
Trojan virus tricks users into downloading the virus by hiding it in something looks legitimate. For example, trojans disguise as software updates, indicating you to update your Adobe Flash but takes you to download a virus program.
• Cookie Trackers
Cookie trackers are frequently used to collect your browsing history and web surf habits for further adware delivery.
How to Check for Spyware
One way to check for spyware is by using the Terminal feature of your Mac. You can use this to check if a specific port was taken by an App.
Guidelines are listed as following:
On your keyboard, press the COMMAND + SPACE buttons to open Spotlight.
On the search bar, type "terminal", then press the RETURN key. The TERMINAL window will appear.
Enter the following command:
lsof -i tcp:8254
If nothing happens, you might be safe. Otherwise, your Mac might be infected with spyware.
Here is a list of frequently detected spyware on Macs:
• Full Moon Clock ScreenSaver v.2.8
• Sky Flight Clock ScreenSaver v.2.8
• Sunny Bubbles Clock ScreenSaver v.2.9
• Radiating Clock ScreenSaver v.2.8
• Rocket Clock ScreenSaver v.2.8
• Serenity Clock ScreenSaver v.2.8
Get the Full list here
Using the Terminal might not be practical for everyone only if you are very familiar with all ports on Macs. 8254 is only one of the ports.
What do you need to do? Do not worry, detecting and removing spyware is not that difficult any longer.
Remove Spyware from your Mac
Installing a Mac security app like Antivirus One can definitely secure your Mac and help to get rid of the annoying spyware. Besides, Trend Antivirus can also help protect your privacy and secure your web browsing.
Follow these 3 simple steps:
STEP 1: Download and install Antivirus One.
a. Open App Store, then search for "Antivirus One".
b. Download and wait until the installation has finished.
STEP 2: Update the pattern and run a Full Scan.
a. When you first open the App, you will need to agree the User Agreement and the App will ask your permission to access to some directories.
b. Click Pattern Update at the bottom of dashboard. Wait until the Pattern Update has finished. The Pattern Update guarantees that the App has the latest library of threats to detect.
c. Click Scan on the dashboard, then click Full Scan to run a complete diagnosis of your Mac.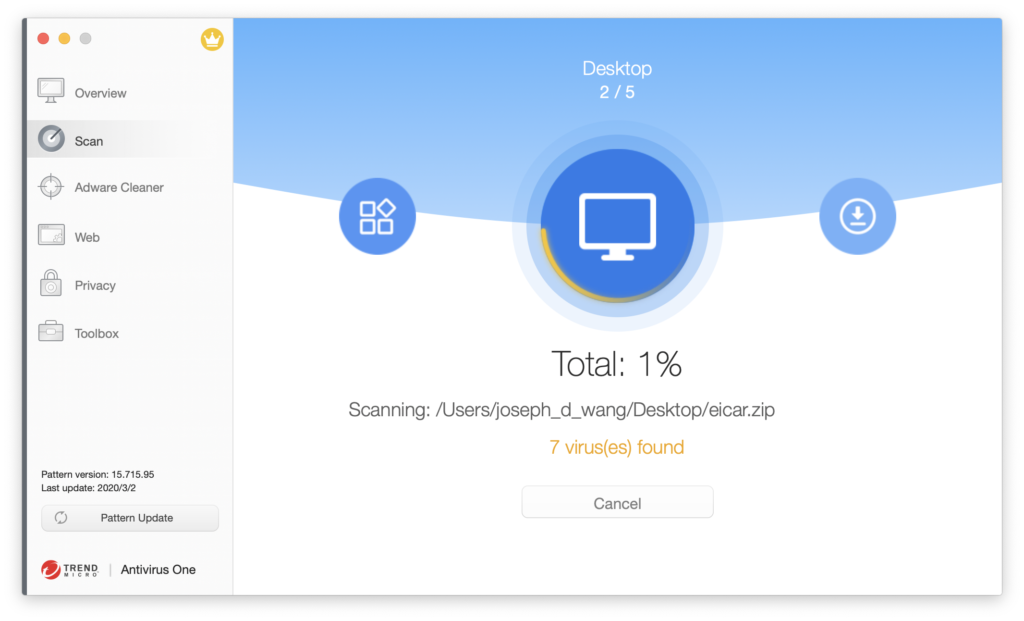 STEP 3: Check your Security Setting to avoid risks.
After you have removed the spyware, you should also draw attention to the following setting to avoid potential threats.

• Update your MacOS and Apps to the latest version in time. It's important as an update are always used to fix bugs or vulnerabilities.
• Check the System Security Settings. Make sure your MacOS allows to download App from App Store and other identified developers. Avoid app installation form unknown sources.
• Cracked Apps might not be trusted. Sometimes, malicious code can be embedded into their installation packages.
• Uninstall suspicious applications.
Check your Applications Folder to see if there are any suspended App listed here.
• Remove unnecessary browser extensions.
Open your browser to check all the extensions you have installed.
Remove unnecessary extensions directly.
With all the steps listed above, your Mac will now be fully protected. Please do not forget to run a regular scan with your Trend Antivirus to keep the system secure and running smoothly.