Purchase Cleaner One Pro in-app
You may purchase a subscription inside the app and follow the prompts on how to purchase a subscription. It will direct you to our online store.
Trend Micro offers a yearly subscription for either a single computer or multiple computers (up to 5) that can protect your Microsoft Windows or Apple Mac devices.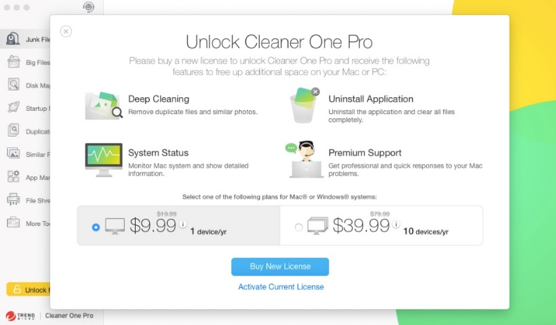 Purchase Cleaner One Pro manually
Click the links below to manually purchase yearly subscriptions for Cleaner One Pro.
Cleaner One Pro 1 Device 1 for Year
Cleaner One Pro 5 Device 1 for Year
The payment will not proceed, what should I do?
If you encounter any errors when paying online, follow these steps below:
Update Region in System Preference
Open System Preferences.
Select Language & Region.
Select the correct region.
Restart Mac.
If you still encounter the issue, email us at mac_support@trendmicro.com for further assistance.